Pension planning for business owners
Bartholomew Hawkins has a great deal of expertise in advising small businesses and their directors.

We have hundreds of clients who run their own businesses and require our regular advice on a number of planning areas. Not all planning with smaller companies is limited to pensions, however below includes a list of some of the pension planning we undertake on a regular basis:
Profit extraction strategies
Commercial property planning with Self Invested Personal Pensions (SIPP)
Pension planning with own company shares or preference shares
Loan backs from pension schemes
Explaining the above planning in full is difficult without tailoring it to the specific company and director's own circumstances.
To give you an understanding of one of these areas we have put together the following on profit extraction.
PROFIT EXTRACTION
For business owners pension planning should be a key part of their profit extraction strategy.
Company owners will work closely with their accountant identifying what proportion of their income should be paid out to them in salary and what proportion in dividends.
At Bartholomew Hawkins we work closely with our clients and their accountants in identifying any pension planning opportunities.
Profit extraction via a pension can be advantageous to a business owner.
The table below shows the advantages and disadvantages using all salary, all dividends or all pension to provide retirement income and is based on having £200,000 profit available for remuneration.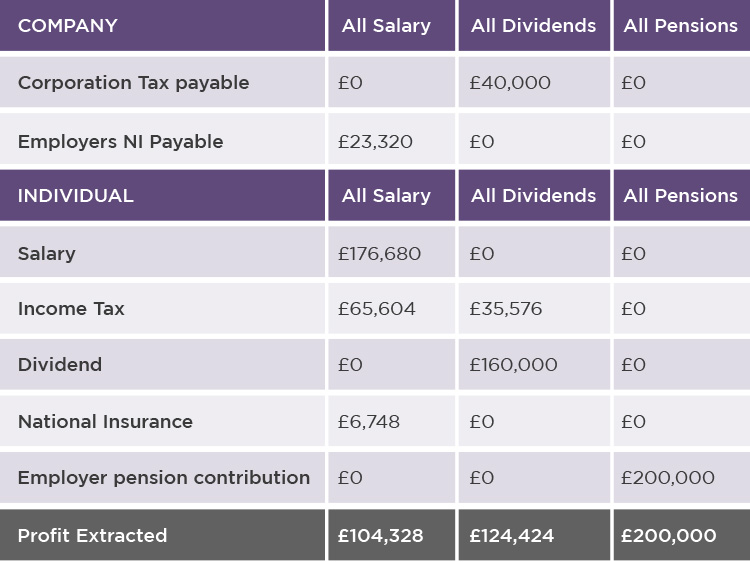 Warning: The information in this table is correct at the date of publication and may have changed. However, it will still be relevant for demonstrating the difference between the three options.
To provide the most flexibility for retirement a range of solutions should be considered but pension planning should definitely feature in this. 
Please also see our other pension services: